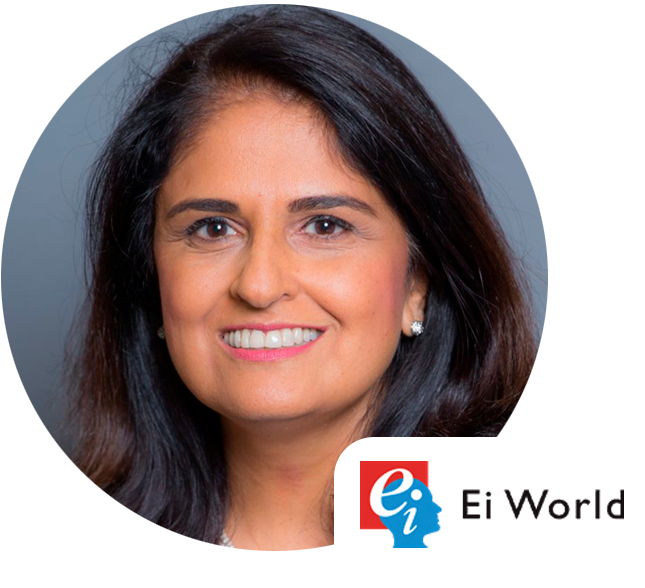 Country:
United Kingdom
Area of Interest: AI & Machine Learning
Founder and CEO of Ei World, creator of STARS App (available at IIOT-World Days), Dr. Bharwaney is an internationally recognized coach, specializing in emotional intelligence.
Throughout her 31- year career she has coached and developed leaders, C-suite, senior executives and company founders and their teams to develop leadership capabilities and emotional intelligence. 
She is Author of "Emotional Resilience: Know what it takes to be agile, adaptable and perform at your best" (Pearson, 2015).
Digital Transformation requires Human Transformation
In this keynote, Dr. Bharwaney, Founder and CEO of Ei World, describes why our human transformation is critical to transforming ourselves in a digitally-addicted, pandemic-adjusting world where our key structures, hierarchies and corporate ceremonies have broken down. Watch Dr. Bharwaney's keynote, specially pre-recorded for this conference: https://www.youtube.com/watch?v=TQavjsf54_U&t=190s
In light of the challenges and pressures we are collectively experiencing, she outlines how we can bring the human element into our organizations so that we can bring forward our best innovations. This matters today more than ever before.
This keynote introduces the A.R.T. and practice of behaviour change, and includes a case study of how a technology team dramatically reduced their time to develop new technologies.
She also introduces the STARS app to help scale approaches to developing people.
IIOT-World Attendee code for the free download to support you on the human aspect of the Digital transformation Journey: People, Process, Technology.
Ei World's STARS app is available for download below.
After you download the app, and register, use this IIOT-World Voucher Code for specially curated content for the conference:
II0T-2020.
Ei World created the STARS App. Globally recognized for its pioneering work in the application of emotional resilience and emotional intelligence (EI). Ei World (established 1999) helps world-class technical organizations build competitive advantage through focused investment in key individuals and teams.  We support CEOs, leaders and teams through coaching, leadership development, and team effectiveness programs. The team comprises EI, organizational and health psychologists, and experienced global executive coaches. https://www.eiworld.org/