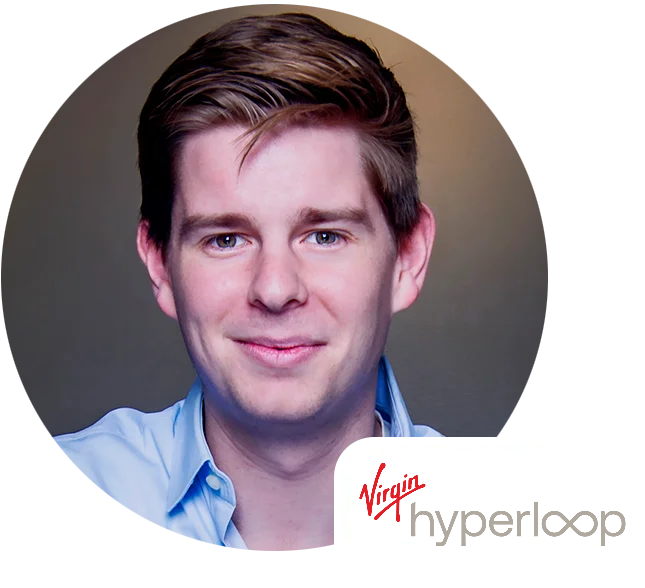 Head of Marketing and Communications
Country: United States
Area of Interest: Smart Cities
Ryan oversees global marketing and communications for Virgin Hyperloop One and supports the commercialization of hyperloop technology through strategic global campaigns.
Ryan gained knowledge and expertise in digital strategy and marketing from years spent consulting with hundreds of brands at companies large and small.
Ryan worked at The New York Times on one of the first integrated advertising teams, as well as WPP, one of the first advertising networks, and was the Digital Director at Media-Corps, managing a 6 billion impression per month network. Pivoting to the agency realm, as a partner at GWNewYork, he oversaw digital strategy, buying, and planning for B/S/H appliance brands and various others. Other clients included Salesforce, Oracle, Lufthansa, American Express, and Bose.
Ryan also teaches marketing strategy to Fortune 1000 companies through General Assembly and was named a 40 under 40 leader for Los Angeles county. He holds a BA in Advertising and BS in Marketing from Syracuse University.
The Digital and Physical Future of Transportation – Virgin Hyperloop One
A growing global economy requires faster, cheaper, safer, and more efficient transportation modes. Our roads, airports, and ports are congested. We haven't had a major new form of transport in 100 years, and we're due for one – especially one that is ultra-fast, autonomous, on-demand, direct-to-destination, and emission-free. Hyperloop is all of those things – and more. It's the future of transportation that we've been waiting for. In this presentation, we'll take you through the technology and systems powering hyperloop and how the digital revolution has enabled them to come together in a completely new way.