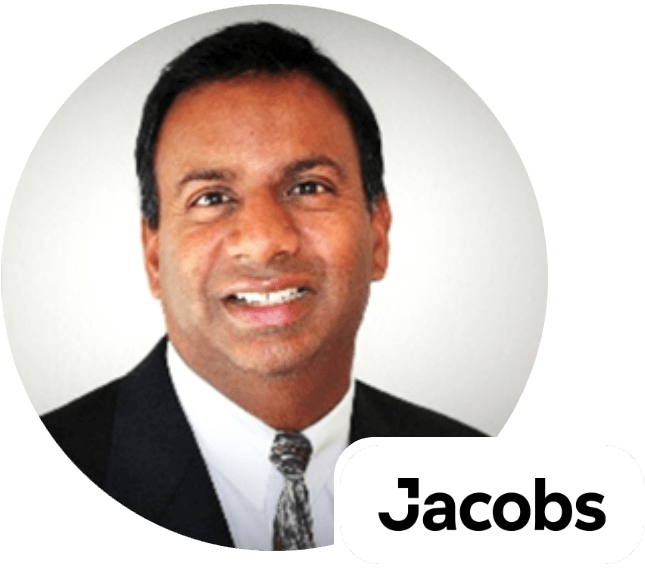 Vice President and Senior Technology Fellow
Dr. Kadiyala is a Vice President and Senior Technology Fellow at Jacobs.  He is currently serving as the Global Market Director for Digital. In this role, he provides leadership, direction, and oversight to services associated with Jacobs' Digital Delivery, Geospatial, and Intelligent Systems solution areas.  These solution areas encompass Automated Design, Augmented and Virtual Reality, Geospatial Analytics and Integration, Geodesign, Digital Twins, Process Control Systems, Optimization, Predictive Analytics, Information Modeling, Smart Metering, Artificial Intelligence, IoT and Smart Sensing, Physical Security, Cybersecurity and Emergency Preparedness solutions for public and private sector clients worldwide.
Over his 27-year career at Jacobs, Dr. Kadiyala has worked to plan and implement information and security system solutions across the globe.  He has also focused on realtime sensing, machine learning, digital twins, control, and analytics for operational optimization.  Many of his current efforts are centered on the development of advanced visualization solutions to provide insight into the overwhelming amount of data generated daily.
Before joining Jacobs, Dr. Kadiyala worked in the aerospace industry and industrial process control space as a development engineer.  He was also a control systems engineer within the Flight Systems Division at NASA and an R&D manager in the automotive and semiconductor manufacturing robotics arena.
Dr. Kadiyala received his bachelor of science, with highest distinction, from Purdue University.  He subsequently received his master of science and doctorate from the University of California at Berkeley, all in electrical engineering.