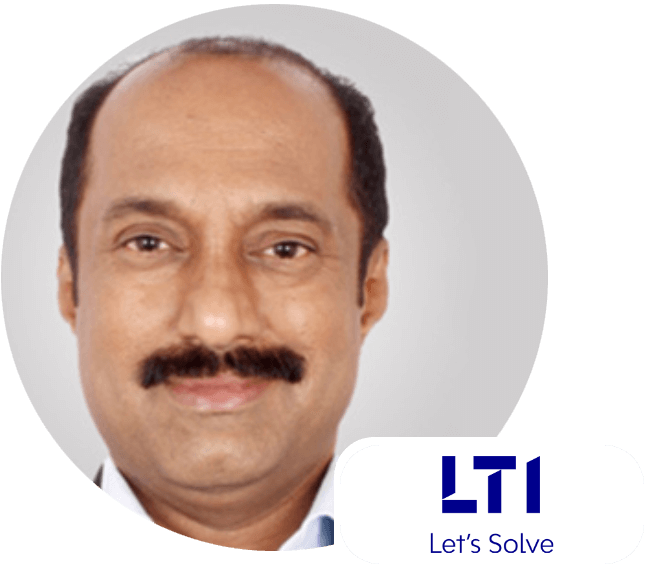 AVP and Global Practice Head
Ravi is an accomplished P&L Leader with 25+ years of experience in Cyber Security, IT & Telecom industries and possess an exemplary track record of surpassing revenue growth and delivery excellence across global markets. Ravi has travelled over 30+ countries and has acquired Fortune 100 customers, managed Deliveries and built strategic partnerships. Ravi is a speaker in cyber security events across US and India.
Ravi holds C level position in LTI Cyber Security Practice and was responsible for global Delivery Transformation, Existing Account Revenue Growth, Operational Excellence and Strategic Alliance management from Jan '21 to June '22. Grew top accounts revenue and accomplished delivery transformation in next gen SOC, Cloud Security, IDAM, App Sec and OT/IOT by mentoring Senior Delivery Managers across Fortune 100 Customers in the US, Europe, NORDICS and ROW. Spearheaded Center of Excellence and was responsible for platformization of XDR, OT, IDAM solutions in partnership with Tier I and II OEMs. Accomplished OEM / Partner led sales across the region.
Since July '22, Ravi, as Head of Practice is responsible for global practice, pre-sales and solutions with P&L responsibilities. Driving revenues along with Sales Leaders in the US, EMEA and ROW with backend pre-sales and solution support from India.
Prior to LTI, Ravi was Head of Practice Sales, Delivery and COE with Tech Mahindra for US, ME and APAC markets from Jan '18 to Dec '20. Built COE in XDR, OT Security and was responsible for Analyst's recognition in Avasant, Everest and ISG. Presented in various Conferences, Webinars in advanced Cyber Security events with focus on SOC, OT / IOT, IDAM in association with Gartner, Forrester, OEM Partners including IBM, Microsoft and Tier I customers in the US and EMEA region. Managed Alliance portfolio and achieved partner led business growth in the US, ME and APAC markets.
In the past Ravi has served for Beyond Security, a US based Cyber Security start-up from June'13 to Oct '16 and managed India, Australia and ME markets. Ravi served C2C Innovations from Jan '17 to Dec-17 as President and managed India businesses.
Ravi had a brief stint with KTwo Technologies, a start-up in embedded domain during Dec 11 to May '13 as COO. Worked for IDG Venture invested Cyber Security start up iViZ from '08 to '11 as VP and handled APAC, Australia, ME and India business.
Ravi is an alumnus of IIM, Bangalore, NLSIU, IIFT, Delhi, ESADE, Spain and Bangalore University with multiple management PGD's and an Engg. Degree in Electrical and Electronics.