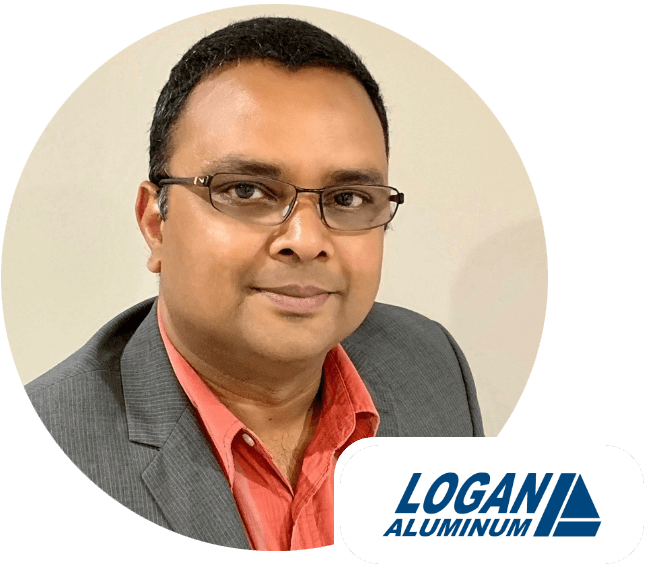 Chief Innovation & Technology Leader
Vijay Kamineni leads organization-wide transformation activities through process innovation & digital initiatives at Logan Aluminum Inc as a member of Strategic Business Management Unit.
Kamineni started at Logan in Feb 2009. Prior to his current role at Logan, Kamineni held various positions as Business Transformation Leader and Development Team Leader. He played a visionary and change management roles in many successful continuous improvement programs at Logan leveraging his lean six sigma, agile project management and advanced analytics skills. Kamineni is currently leading the Smart Industry/I4.0 initiative at Logan by bridging the Operations and Information Technology.
Kamineni brings over 30 years of international experience in various management and information technology and worked in India, Malaysia, Philippines and the United States with business activities in many other countries. Kamineni holds a Mechanical Engineering degree from Birla Institute of Technology and Sciences, Pilani and is currently pursuing his MBA in Strategic Management at Temple University's Fox Business School.
Kamineni serves as President of AccelerateKY, as statewide nonprofit, backbone organization formed out of MIT REAP program, Board Member of WKU Research Foundation, Board Member of WKU Launch Pad, Industry Advisory Board Kentucky Advanced Manufacturing Partnership for Enhanced Robotics and Structures (KAMPERS), Advisory Board CICS, Murray State University, Member Lexington Corporate Innovation Roundtable, Founding Member of Kentucky Metals Innovation Initiative (Mi2).