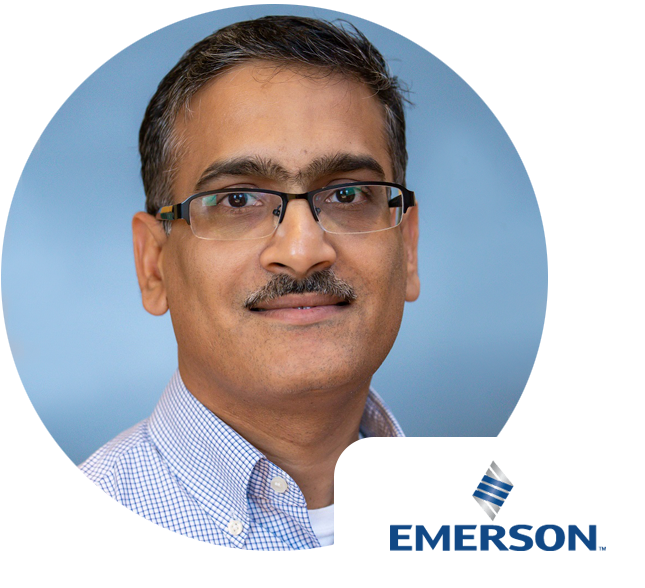 Vice President of Product Management, Digital Transformation
Mani Nambiar leads product management for Emerson's operational certainty solutions portfolio in the digital transformation business. Nambiar is focused on driving product direction to help customers improve their safety, reliability, energy and performance management. This includes Plantweb Optics, an asset performance platform that helps customers achieve their goals by consolidating data from multiple operational technology applications to one centralized data lake and running machine learning and artificial intelligence analytics to drive relevant outcomes.
Nambiar has over 22 years' experience in the process control industry. Prior to his current role, he held various project management and marketing roles throughout the company. Before joining Emerson he worked for a refinery in India where he was involved in construction, commissioning and maintenance phases of a grass roots level refinery.
Nambiar has a Bachelor of Engineering in instrumentation and control from the National Institute of Technology in India and a Professional MBA from the University of Tennessee.
Future of Manufacturing is Smart and Innovative
The industry has always been innovating – using technologies like innovative sensors coupled with software and analytics to reduce operating costs, improve safety, increase reliability, and enable sustainable operations. But now there is a need to apply this innovation quickly and effectively. Due to the pandemic, fewer people are in plants, and companies are embracing new and enabling technologies that help them accelerate their digital transformation programs. With technologies like augmented reality (AR) already available, it has become a major tool to help increase collaboration and effectiveness between personnel across the organization.
But what comes next? The industry has two options; push all the data to the cloud and let someone else manage it or does the data live at the sensor? What is the right thing to do, what is the balance? This is what I will discuss during this panel.