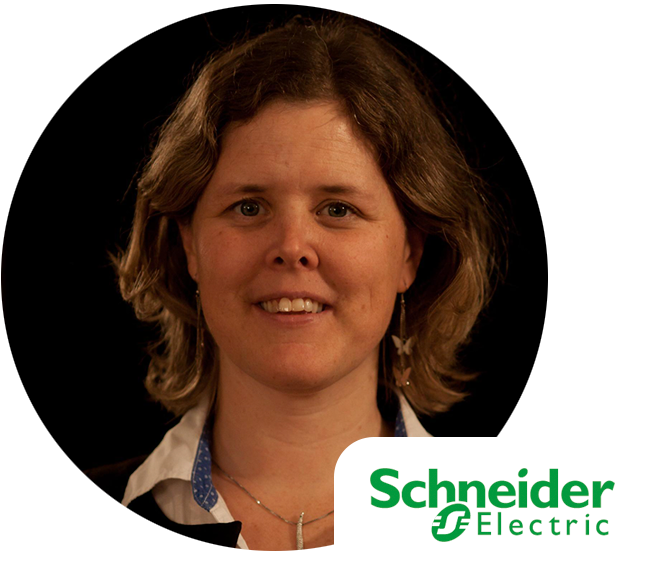 Country:
France
Area of Interest: Industrial IoT
Sophie BORGNE is the Senior Vice President of Digital Plant Line at Schneider Electric, where her role has a strong focus on Industrial Internet of Things to extend capabilities of traditional industrial automation, by working closely with our own plants via Smart Factories Program to test our latest innovations, collaborating with universities to attract digital talents and building agile development teams.
Since she joined Schneider Electric in 2001, she gained strong international exposure in Africa, China, France and Italy, has led teams in different functions: marketing, business development, process automation systems testing, customer support, industrialization & supply chain and training. She has been invited regularly to speak and contribute her expertise in Industrie 4.0: such as Expert Learning Session on digital Plant at company's Innovation Summit in Paris, together with Microsoft in April 2018; she also Worked with Hoepli editions to create Industria 4.0 course book for technical institutes in Italy (2018); Interviewed as "automation guru" by Eureka, cronaca dell'innovazione (Nov 2017); Launched Industria 4.0 Academy in Italy as part of the "alternanza scuola lavoro" program of Italian government (March 2017); Developed Smart Manufacturing e-learning modules for Cisco University (2016 & 2017); Participant to the research, and speaker at the final presentation of Osservatorio Smart Manufacturing–a digital innovation project of Politecnico di Milano (July 2015/July 2016); She was also a mentor for students from Pakistan for company's Global Go Green in the City contest.
Important considerations when beginning your IIoT transformation
Have a clearly defined desired state.  Identify the problem you're trying to solve. Quantify and measure benefits and use them to identify and manage ROI with the end in mind.
Understand how the transformation will affect your present operations. Is your digital transformation strategy scalable to minimize disruption to your day to day business? Does it support the necessary IT/OT convergence to securely and transparently link your business and operational systems? At Schneider Electric our partnership with AVEVA is a good example of how we can leverage EcoStruxure's secure transparency to help customers turn industrial big data into world class business insights.    
Is your human capital ready to make the most of IIoT and do you have the right collaboration culture and skills in place?
Do you have access to the right expertise to help you succeed in your digital transformation journey? Finding the right partner will help you get the most benefit from your IIoT implementation with minimum disruption to day to day operations. At Schneider Electric our 'Exchange' online platform allows customers and partners to collaborate and exchange information and expertise to help reduce the risk of your IIoT journey.  
Schneider's experience in implementing IIoT solutions in our own 'Smart Factories'
Deployed our IIoT solutions in 80+ plants around the world, harnessing IIoT to result in improvements in manufacturing efficiency and sustainability. Two of our Smart Factories have been recognized as Advanced Manufacturing Lighthouses by the World Economic Forum, and our Smart Factory in Batam was recognized by the Indonesian Ministry of Industry.
Leveraged EcoStruxure, our own IIoT Platform, which provides industry leading, secure, transparent access to data both across the IT and OT layers and across multiple domains (e.g. Power and Process control systems).
Examples of how our Smart Factories initiative has helped us, and could also bring benefits to other Industrial businesses:
‒ Analysis and optimization of process flow, availability performance and quality
‒ Deployment of Discrete Lean Manufacturing partnering with AVEVA
‒ Clear insights from industrial big data to decide what to prioritize to improve first to make the greatest difference
‒ Reduction in time wasted, improved operational efficiency and reduced downtime